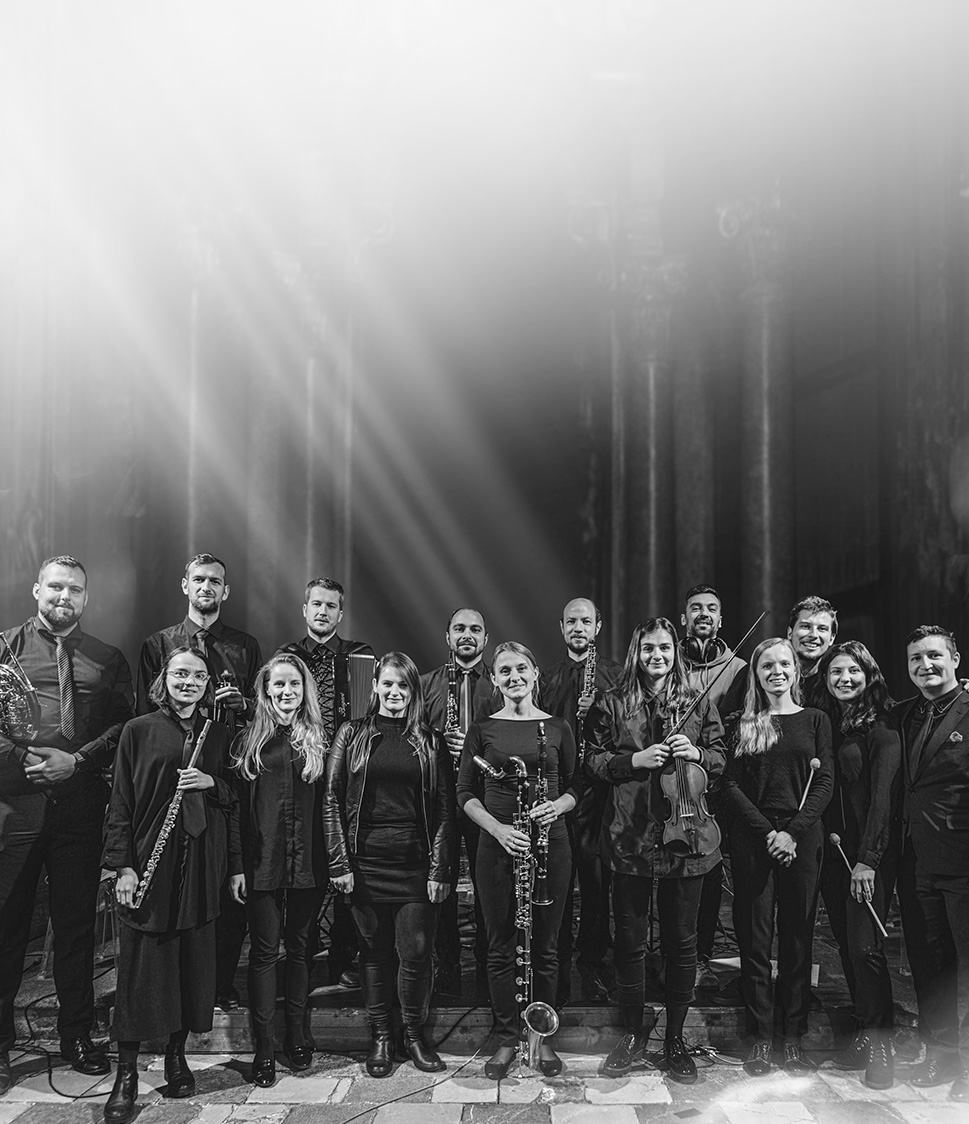 EnsembleSpectrum

15. 7., 17:00, Baroque garden at Bratislava Castle
Musical Gardens #3
EnsembleSpectrum
Martina Lišková / clarinet
Barnabás Kollárik / saxophone
Lukáš Golej / French horn
Júlia Stahl Novosedlíková / piano
Martin Švec / vibraphone
Adéla Spurná / Glockenspiel
Adam Szendrei / violin
Júlia Urdová / viola
Dávid Šarkézi / doublebass
Matej Sloboda / jingle bells, artistic director
EnsembleSpectrum is currently one of the most impressive and active ensembles specialising in 20th and 21st century chamber music in Slovakia. Having initially desired as students to present new and less well-known works, with the passage of years this activity has become a passion and a life's mission for the members of the ensemble, motivating them to ever larger and more momentous dramaturgy. During its ten years of operation hitherto, the ensemble has studied more than forty varied compositions by contemporary domestic and foreign composers. At a concert in the Viva Musica! festival, EnsembleSpectrum will present work by the relatively little-known, but all the more interesting, American composer Julius Eastman (1940 – 1990). Eastman was one of the eccentric figures on the New York scene, an electrifying singer, pianist, conductor, choreographer, and above all a uniquely distinctive and original composer. The characteristic feature linking his personal and artistic lives was incessant change, whether in modes of dress or musical styles — from the heavy metal style of heavy boots and chains, through the classic university bookworm sporting a stylised afro with thick-framed glasses, to the white toga expressing his search for the spiritual. Taking a certain part of his work, we might assign Eastman a place among minimalist composers, and unquestionably we may rate as minimalist his Femenine, from 1974, which will be performed at the concert.
Programme

Julius Eastman: Femenine
___
The concert is held within the Musical Gardens series. 
Admission to the concert is free.
We reserve the right to change the programme and performers.
Free entry
MOMENTS FROM PREVIOUS EDITIONS OF THE FESTIVAL CAN BE FOUND HERE:
Gallery