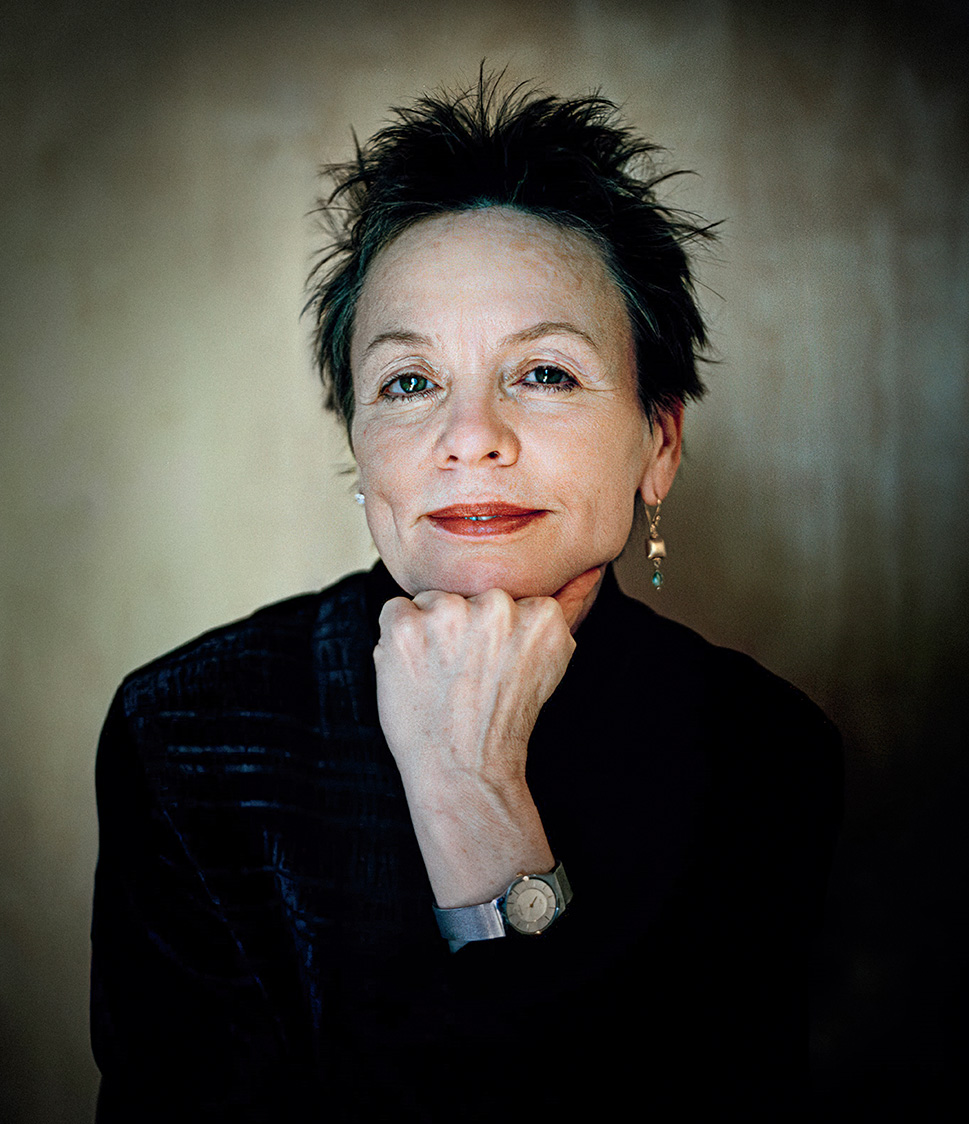 Laurie Anderson:
Amelia
11.9., 20:00, Slovak Radio
Program

Pavel Haas (1899 – 1944)
Study

Philip Glass (*1937)
Symphony No. 3
Movement I – Movement II – Movement III – Movement IV
___
Laurie Anderson (*1947)
Amelia


Laurie Anderson, vocals, violin, electronics
Rubin Kodheli, cello
Brno Philharmonic
Dennis Russell Davies, conductor


At the invitation of Viva Musica! festival, Laurie Anderson will appear for the first time in Slovakia on September 11, 2022. Accompanied by the Brno Philharmonic orchestra led by their conductor-in-chief Dennis Russell Davies, she will present her own composition Amelia. This work is a narrative about the fate of the famous American aviator Amelia Earhart, who in 1928 became the first woman to fly across the Atlantic. While attempting to fly round the world in 1937, she disappeared mysteriously when flying over the Pacific Ocean. "The words used in Amelia are compiled from the flight diaries of Amelia Earhart, from telegrams she sent to her husband George, and from my own idea of what a woman might think about while flying round the world," Laurie Anderson has written. This composition has a long history. The original version for large orchestra was commissioned by the American Composers Orchestra and was performed under the title Songs for A.E. in New York's Carnegie Hall in 2000, under the baton of Dennis Russell Davies, who later adapted the work for string instruments and electronic double bass and performed it with the Stuttgart Chamber Orchestra in 2003. The third version, titled Amelia, was premiered in Brno in 2019 and contains some new movements – duets by Laurie Anderson (violin, electronics) and Rubin Kodheli (cello), which function as interludes. This version will be heard as part of a concert in the Viva Musica! festival, and it will be complemented in the programme by Symphony No. 3 by Philip Glass and Study by the Czech composer Pavel Haas.
Laurie Anderson is a writer, composer, director, visual artist, and vocalist who has created groundbreaking works that span the worlds of art, theater, experimental music, and technology. Her recording career, launched by 'O Superman' in 1981, includes the soundtrack to her feature film Home of the Brave (1986) and Life on a String (2001). Anderson's live shows range from simple spoken word to elaborate multi-media stage performances such as Songs and Stories from Moby Dick (1999). In 2002, Anderson was appointed the first artist-in-residence of NASA which culminated in her 2004 touring solo performance The End of the Moon. In 2010 a retrospective of her visual and installation work opened in Sao Paulo, Brazil and later traveled to Rio de Janeiro. Her film Heart of a Dog was chosen as an official selection of the 2015 Venice and Toronto Film Festivals. In the same year, her exhibition Habeas Corpus opened at the Park Avenue Armory to wide critical acclaim and in 2016 she was the recipient of Yoko Ono's Courage Award for the Arts for that project. Anderson lives in New York City. Anderson continues to tour her evolving performance Language of the Future and has collaborated with Christian McBride and Philip Glass on several projects in 2017. Anderson continues to work with the activist group The Federation which she co-founded in 2017. In February of 2018 Landfall, a collaboration between Anderson and Kronos Quartet was released through Nonesuch Records. Commissioned by Kronos Quartet in 2013, the work was inspired by the devastating effects of Hurricane Sandy. Most recently Anderson opened her largest solo exhibition at The Smithsonian's Hirshhorn Museum in Washington D.C. titled The Weather which is open through July 31, 2022. The Weather debuts more than a dozen new artworks, interspersed with select key works, including Habeas Corpus (2015), from her five-decade career. The exhibition guides visitors through an immersive audiovisual experience in the Museum's second-floor galleries, showcasing the artist's creative storytelling process through her work in video, performance, installation, painting, and other media.
Composer and cellist Rubin Kodheli is a celebrated, versatile, genre-transcending creative rebel. The inspirational tapestry of his work is intentionally woven from blended threads of rock, jazz and classical influences, a stylistic trademark that has afforded Kodheli a career rich in its diversity of output. From his compositions appearing in feature films, to his original symphonic rock compositions, to his collaborations as a performer with genre defining artists – including Philip Glass, Laurie Anderson, Henry Threadgill, Christian McBride, Meredith Monk, Joan Jett, Tom Harrell, and Snoop Dogg. His eclectic work amounts to an intriguing sonic collage able to enrapture and captivate audiences. Rubin Kodheli began his musical journey as a cellist in Albania, where, as a child, he would stay up into the night absorbing celebratory performances of traditional Albanian folk music or spend days attending numerous rehearsals with his mother, singer, and actress Justina Aliaj. By age fifteen, he moved to Belgium to pursue formal studies at Academy of Music of Uccle and later to Germany. In the 1990s, Kodheli received a scholarship to The Juilliard School, where he studied as a pupil of cello visionary Fred Sherry. Post-Juilliard Kodheli's own musical improvisation and work with dancers as well as with other improvisers and composers compelled him to learn composition. Creating instrumental alchemy in his compositions and performances, Kodheli deftly melds the cello to emulate the timbre of a guitar, a drum, or a human voice. His compositions teem with nuance, providing the opportunity to listen repeatedly, each time ripe with the possibility of hearing something that previously went unnoticed. Immersing audiences in honest musical explorations, Kodheli pushes listeners to engage, question and contemplate. This panoply of unique musical experiences, from childhood through the present, continues organically to guide and meld his work with filmmakers, rap artists, dancers, choreographers, fellow composers, and various other creative professionals in New York City, and around the world.
The origins of the Brno Philharmonic Orchestra are connected to Leoš Janáček's attempts to found a national Czech orchestra as a young composer in the 1870s. Since then, Janáček's compositions have been a central feature of the Orchestra's programming, and the ensemble is renowned as a definitive interpreter of the composer's works. The Brno Philharmonic Orchestra, as we know it today, was established in 1956 when radio and regional orchestras were merged, and it is considered to be one of the leading orchestras in Czechia. Dennis Russell Davies has been the Orchestra's chief conductor since 2018. The Orchestra has performed numerous times in Europe, the US, South America, and Asia; it regularly appears in national and international festivals, and frequently records for Czech Radio and Television. It has released recordings with labels such as Supraphon, Sony Music, IMG Records and BMG. In 2020, the Brno Philharmonic founded its own record label regularly releasing exceptional recordings for the international market, and also collaborates with the Czech Orchestra Recordings platform. The Brno Philharmonic has collaborated with renowned conductors such as Břetislav Bakala, František Jílek, Petr Altrichter, Jiří Bělohlávek, Sir Charles Mackerras, Jakub Hrůša, Tomáš Netopil among others. The Brno Philharmonic Orchestra has been organising the summer open-air festival in Brno's Špilberk Castle since 2000, and for over a decade it has been directing renowned festivals such as the Moravian Autumn, the Easter Festival of Sacred Music, and the Exposition Of New Music. The internationally renowned children's choir Kantiléna is affiliated to the Brno Philharmonic, and since 2010 both have been regular participants in the Mozart's Children Festival. In 2014, the Orchestra founded its own Orchestra Academy. The Brno Philharmonic Orchestra is resident in the Besední dům – the 'Brno's Musikverein', which was built by the Austrian-Danish architect Theophil von Hansen (1873). It will soon be moving to a new concert hall designed by architects Tomasz Konior and Petr Hrůša, and acoustic engineer Yasuhisa Toyota.
Dennis Russell Davies' activities as opera and orchestral conductor, and as pianist and chamber musician, are characterized by an extensive repertory stretching from Baroque to the latest music of our time. Widely considered to be one of the most innovative and adventurous conductors/programmers in the classical music world, Davies has successfully challenged and inspired audiences on both sides of the Atlantic as well as in Japan. He is noted for exciting, well-structured concerts and for his close working relationships with such varied composers as Luciano Berio, William Bolcom, John Cage, Philip Glass, Heinz Winbeck, Aaron Copland, Lou Harrison, Laurie Anderson, Arvo Pärt, Hans Werner Henze, Kurt Schwertsik, Thomas Larcher, Balduin Sulzer, and Manfred Trojahn. After first appointments as Music Director of the Saint Paul Chamber Orchestra and Chief Conductor of the American Composers Orchestra, which he led for 25 years, Davies moved to Europe as General Music Director of the Staatsoper Stuttgart, then Opera Bonn and the Beethoven Orchestra Bonn. He subsequently led the Vienna Radio Symphony Orchestra, the Stuttgart Chamber Orchestra, and the Sinfonieorchester Basel. In 2013, during his long and successful tenure in Linz as Chief Conductor of the Landestheater Linz and Bruckner Orchester Linz, Davies inaugurated the new Linzer Musiktheater conducting the world premiere of Philip Glass'/Peter Handke's Spuren der Verirrten and Strauss' Rosenkavalier. As guest conductor in the USA, he has appeared with the orchestras of Chicago, Philadelphia, San Francisco, Boston, New York, and Cleveland. In Europe he has worked regularly with the Concertgebouworkest Amsterdam and the Gewandhausorchester Leipzig and has conducted the Berliner Philharmoniker, Filarmonica della Scala, the St. Petersburg Philharmonia, Orchestra of the Maggio Musicale Fiorentino, as well as the Hamburg and Munich Philharmonic Orchestras. Recent opera engagements include a new production of Peter Eötvös' Three Sisters in Frankfurt and multiple performances of Salome and Wozzeck at the Wiener Staatsoper. He has conducted new productions at the Bayreuth and Salzburg Festivals, the Metropolitan Opera New York, the Hamburgische and Bayerische Staatsoper, the Opéra National de Paris, the Lyric Opera of Chicago, and Teatro Real in Madrid – a total of more than 140 new productions by many of the theatre world's most important stage directors. Dennis Russell Davies' rich discography includes complete recordings of the symphonies of Anton Bruckner and Philip Glass (Bruckner Orchester Linz), Joseph Haydn (Stuttgarter Kammerorchester) and Arthur Honegger (Sinfonieorchester Basel). With his wife and duo partner Maki Namekawa he has recorded extensively, including works by Mozart, Beethoven, Shostakovich, Glass and Stravinsky's original four-hand versions of Le Sacre de Printemps, Firebird, and Petrouchka, which he also recorded with the Sinfonieorchester Basel. Born in Toledo, Ohio in 1944, Davies studied piano and conducting at the Juilliard School in New York. From 1997–2012 he was professor for orchestral conducting at the University Mozarteum Salzburg. Since September 2020, he is a guest professor at the Janáček Academy of Music and performing Arts in Brno. Since 2009, Dennis Russell Davies is a Fellow of the American Academy of Arts and Sciences, and has been awarded the German Bundesverdienstkreuz, the Austrian Ehrenkreuz für Wissenschaft und Kunst, as well as the title Commandeur des Arts et Lettres bestowed by the French Government. Currently, Dennis Russell Davies is an Artistic Director and Chief Conductor of the Brno Philharmonic, and a Chief Conductor of the MDR-Sinfonieorchester in Leipzig.

We reserve the right to amend the programme.
Tickets
MOMENTS FROM PREVIOUS EDITIONS OF THE FESTIVAL CAN BE FOUND HERE:
Gallery