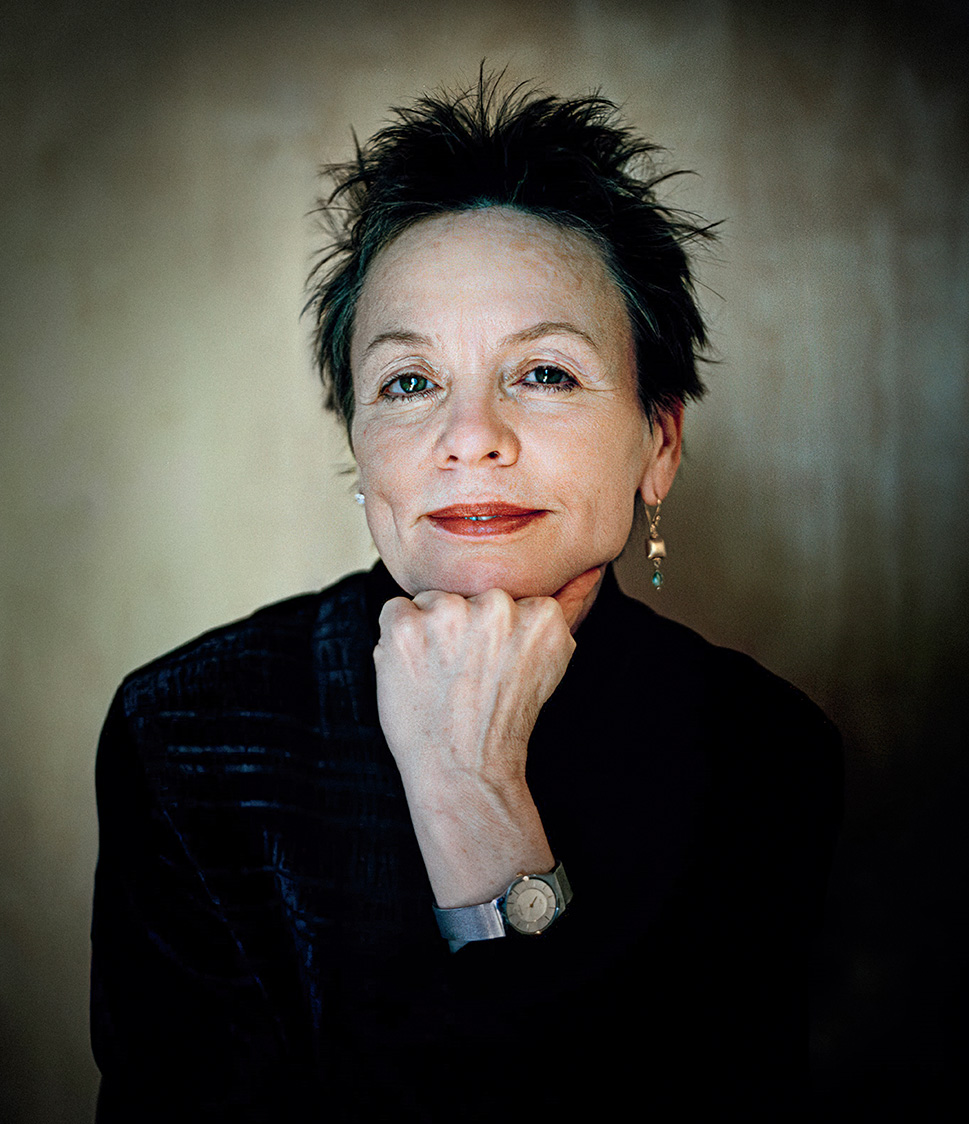 Laurie Anderson:
Amelia
11.9., 20:00, Slovak Radio
Laurie Anderson, vocals, violin, electronics
Rubin Kodheli, cello
Brno Philharmonic
Dennis Russell Davies, conductor
Laurie Anderson, composer and improviser, is one of the most prominent and courageous figures in American arts. She has won renown particularly for her multimedia projects and her innovative use of new technologies. She is also a writer, director, visual artist and vocalist who has created groundbreaking works that span the worlds of art, theater, experimental music, and technology.. Her rich discography begins with the single O Superman (1981), which also features on her debut album Big Science (1982). This was followed by albums including Mister Heartbreak (1984), Home of the Brave (1986; soundtrack to her feature film), Strange Angels (1989), Life on a String (2002), Homeland (2008/2010) and Landfall (2018), which she recorded with Kronos Quartet and for which she received a Grammy in the category of "Best Chamber Music Album". In 2002 Laurie Anderson became the first resident artist in NASA. Her film work includes such titles as Home of the Brave (1986), Hidden Inside Mountains (2005) and Heart of a Dog (2015), which was commissioned by Arte and has been presented in the main programme of the film festivals in Venice and Toronto.
At the invitation of Viva Musica! festival, Laurie Anderson will appear for the first time in Slovakia on September 11, 2022. Accompanied by the Brno Philharmonic orchestra led by their conductor-in-chief Dennis Russell Davies, she will present her own composition Amelia. This work is a narrative about the fate of the famous American aviator Amelia Earhart, who in 1928 became the first woman to fly across the Atlantic. While attempting to fly round the world in 1937, she disappeared mysteriously when flying over the Pacific Ocean. "The words used in Amelia are compiled from the flight diaries of Amelia Earhart, from telegrams she sent to her husband George, and from my own idea of what a woman might think about while flying round the world," Laurie Anderson has written. This composition has a long history. The original version for large orchestra was commissioned by the American Composers Orchestra and was performed under the title Songs for A.E. in New York's Carnegie Hall in 2000, under the baton of Dennis Russell Davies, who later adapted the work for string instruments and electronic double bass and performed it with the Stuttgart Chamber Orchestra in 2003. The third version, titled Amelia, was premiered in Brno in 2019 and contains some new movements – duets by Laurie Anderson (violin, electronics) and Rubin Kodheli (cello), which function as interludes. This version will be heard as part of a concert in the Viva Musica! festival, and it will be complemented in the programme by Symphony No. 3 by Philip Glass and Study by the Czech composer Pavel Haas.
We reserve the right to amend the programme.
Tickets
MOMENTS FROM PREVIOUS EDITIONS OF THE FESTIVAL CAN BE FOUND HERE:
Gallery