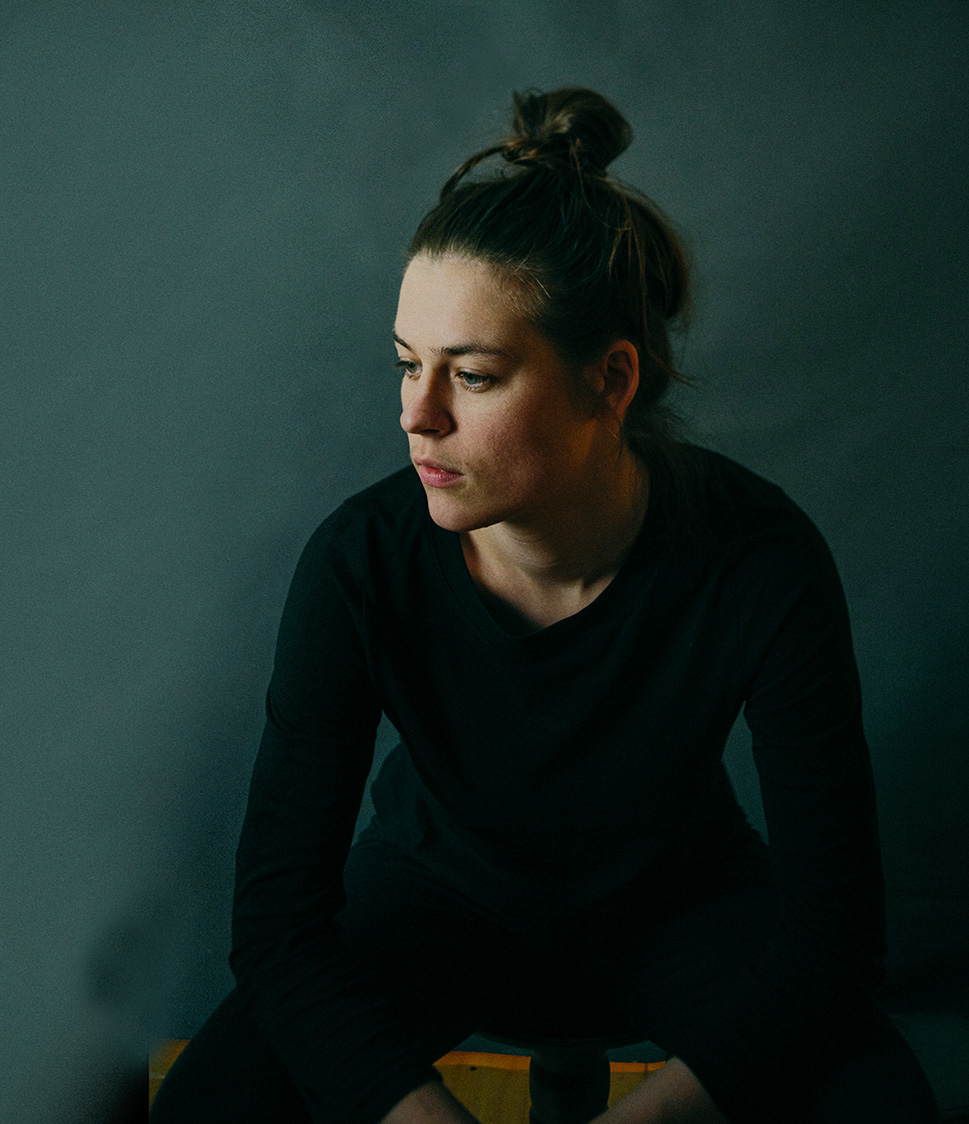 Nikol Bóková:
Prometheus
11.8., 20:00, Forecourt of the Old Town Hall
Nikol Bóková, piano
Radek Baborák, French horn
David Dorůžka, electric guitar
Jaromír Honzák, double bass
Michał Wierzgoń, drums


Program

Sergei Rachmaninoff (1873 – 1943)
Études-Tableaux, Op. 33: No. 2 in C Major

Franz Liszt (1811 – 1886)
Sonetto 104 del Petrarca

Sergei Rachmaninoff
Moment Musicaux No. 4 in E minor, Op. 16

Johann Sebastian Bach (1685 – 1750)
Prelude and Fugue in E minor, BWV 855
(The Well-Tempered Clavier I)

Sergei Rachmaninoff
Prelude No. 5 in G Major, Op. 32
Études-Tableaux, Op. 39: No. 5 in E Flat minor

Nikol Bóková (*1991)
Shores of the Void (Elements)
Six Point Six Sextillion Tons (Elements)
___
Nikol Bóková:
Prometheus


We reserve the right to amend the programme.


Nikol Bóková is a musician dedicated to many genres of music. As a performer of classical music, her repertoire ranges from Baroque to contemporary music but the 19th and 20th Century periods are a primary focus. At the same time, she is an extraordinary author of her own, unique music. Her work draws on her training as a classical pianist and combines elements of jazz, classical music, pop music, and minimalism. Over the space of four years, she recorded four albums that met with high critical acclaim. Her debut album Inner Place was nominated for the Czech Music Academy Award. The second album, Unravel, Nikol recorded with Michał Wierzgoń and Martin Kocián, who are foremost jazz musicians of the young generation. The third album Prometheus was released in May 2021, less than a year after the release of Unravel. For the recording of Prometheus Nikol invited remarkable jazz musicians David Dorůžka and Jaromír Honzák, and world-renown French horn player Radek Baborák. In March 2022 she recorded her fourth author album in a line-up of the quartet when she decided to extend her trio by David Dorůžka. While all previous albums were released by Animal Music label, Elements is released by Soleil et Pluie (Sun and Rain), a record label founded this year by Nikol and Jan Vala. The Elements, therefore, occupies the ceremonial role of the first album released. Besides composition, Nikol has pursued a solo career as a pianist. She regularly appears with foremost Czech orchestras on Czech and European stages. She performs solo recitals, and records classical music for the Czech Radio. She's performed at the festivals such as Janacek's May, JazzFestBrno, American Spring, Summartónar, or Influencers of resonance. In collaboration with the visual artist Jan Vala, she has co-authored the Cataplasm project and has been promoting it within the Patreon donor platform, where you can support Nikol's artistic journey. In the project, she combines the world of classical music with her own work and creates masterclasses, piano lessons for beginners, video clips, documentaries, and audio-visual projects in which she allows listeners a peek into a musical world and creative process of her own and other people who live by music. Within this project, she works not only as a composer but also as an editor and screenwriter. Nikol's recent successes are the Anděl Award 2021 for the album Prometheus in a jazz category, awarded by the Czech Music Academy, the Anděl Award nomination for the best jazz album of the year 2019 for her debut Inner Place, second prize in the survey of the Czech journalists and promoters for the album Unravel, a nomination for the Jantar prize in the category of the best soloist of the year 2020 for Unravel, first prize in the competition of the Central European Jazz Showcase 2021, or an award for the best jazz composition of the year 2020 for the piece Prometheus, awarded by OSA.
Radek Barborák is one of the most renowned conductors and French horn players on the current Czech classical music scene. He has performed in festivals such as the Salzburger Osterfestspiele, the Maggio Musicale Fiorentino, the Pacific Music Festival, Festival Bílé Noci, the Suntory Hall Chamber Music Garden, the International Music Festival Utrecht, Julian Rachlin and Friends (Dubrovnik), LePontes, the Jerusalem Chamber Music Festival, the Smetanova Litomyšl, and the Prague Spring, among others. He has recorded for EuroArts, EMI, Supraphon, Arte Nova and Animal Music. From 2003 to 2010, Barborák was principal horn with the Berlin Philharmonic. As a solo player he has worked with renowned conductors such as Sir Simon Rattle and Daniel Barenboim. He played at the opening ceremony of the Olympic Games in Nagano and since then has collaborated many times with maestro Seiji Ozawa. Radek Barborák has been a member of the Saito Kinen Orchestra and the Mito Chamber Orchestra, with whom he has toured Japan, USA, and Europe, and recorded numerous albums. Apart from the Berlin Philharmonic, he has performed as a soloist with orchestras such as the Munich Philharmonic, the Bavarian Radio Symphony Orchestra, the DSO Berlin, the RSB Berlin, the Bamberger Symphoniker, the Bach Akademie Stuttgart, Radio France Lyon, Suisse Romande Geneva, the Philharmonique de Barborák Strassbourg, the Saint Petersburg Philharmonic, the Moscow Philharmonic, the Royal Philharmonic Orchestra, the Tonkünstler Orchestra Wien, the NHK Symphony Orchestra, the Tokyo Metropolitan Orchestra, and the Tokyo Philharmonic Orchestra. Barborák is a keen chamber musician. He is the founder or/and artistic director of the Barborák Ensemble, the Český hornovy zbor (which continues the 300-year-old tradition of French horn playing in Czechia) and the Prague Chamber Soloists. Barborák is also a member of Afflatus Quintet, which received first prize in the ARD competition in Munich. As a duo partner, he has performed with pianist Yoko Kukuchi, organist Aleš Bárta and harpist Jana Boušková, among others. He is also member of Berlin-Munich-Vienna Octet. As a chamber musician Barborák has collaborated with musicians such as Yefim Bronfman, Andras Schiff, Itamar Golan, Denis Koshukin, Rudolf Buchbinder, Gerhard Opitz, Julian Rachlin, Janine Jansen, Guy Braunstein, Lorenz Nasturic, Boris Brovtsyn, Julian Steckel, Emmanuel Pahud, Albrecht Mayer, Francois Leleux, Ian Bostridge, Thomas Quasthoff and Waltraud Mayer.Barborák started playing the French horn as 8-year-old under Karel Křenka. He was awarded 'absolute winner' of the Concertino Praga competition, 3rd prize in the festival Prague Spring competition, and is a laureate of the Grand Prix Unesco. He studied in the Prague Conservatory with Bedrich Tylšar. During his studies in the conservatory, he won competitions in Geneva, Markneukirchen and in Munich where he received a Grammy Classic Award. He gained the position of first French horn player in the Czech Philharmonic at the age of 18 – a post he held for two years.
David Dorůžka is one of the most prominent figures in the current Czech jazz scene. He has been active as a musician since the age of 14, he has performed worldwide. Dorůžka was awarded residencies in Paris and New York. In June 2022, he released his new album Andromeda's Mystery with Polish pianist Piotr Wylezol and American drummer Jeff Ballard. His previous album Autumn Tales was released in 2016 for which Dorůžka received Anděl award. Czech radio Jazz ranked the album as the best Czech jazz recording of 2016. Dorůžka studied composition and improvisation at Berklee College of Music in Boston with Joe Lovan, Mick Goodrick and George Garzone. He also studied with musicians such as Herbie Hancock, Brian Blade, Joshua Redman and Christian McBride. Dorůžka has won 4 Anděl awards for albums Hidden Paths (2004), Silently Dawning (2008), Light Year (2012) and the aforementioned Autumn Tales (2016). He has collaborated with musicians such as Jeff Ballard, Kendrick Scott, Dan Tepfer, George Mraz, Jorge Rossy, Chris Cheek, Arild Andersen, Django Bates, Bill McHenry, Jon Fält, Marcin Wasilewski, Aga Zaryan, Hilmar Jensson, Rodney Green, Brian Charette, Daniele di Bonaventura, Tiburtina Ensemble, Jiří Suchý, Oldřich Janota, Iva Bittová, Ewa Farna, Marta Topferová and many others.
Jaromír Honzák studied double bass at the Music Conservatory in Teplice and at the faculty of Jazz Interpretation at the Janáček Academy of Performing Arts in Brno. He is one of the most versatile and sought-after players on the Czech music scene. He collaborated with renowned artists such as Karel Růžička, Emil Viklický, Eben Brothers, Iva Bittová, Art Farmer, Phil Wilson, Don Friedman, Amina Claudine Myers, Jorge Rossy, Chris Cheek, Victor Lewis among others. In 1989, he was awarded a scholarship from Berkeley College of Music where he studied with Bruce Gertz, Hal Crook, and John LaPort. He has released nine albums (Early Music (2017), Uncertainty (2014), Little Things (2009), A Question To All Your Answers(2007), Present Past (2003), among others), for which he has received numerous national and international awards. Many of his tracks were featured in numerous competitions including John Lennon Songwriting Contest, USA Songwriting Competition etc. The piece Constant Struggle from his album Present Past is published by Sher Music Co. in The European Real Book. The album A Question to All Your Answers won 3rd prize in the competition called Just Plain Folks. Jaromír Honzák is an Associate Professor at the Jazz Department in the Academy of Performing Arts in Prague.
Born in 1994 (Czech Republic), Michał Wierzgoń is a jazz live/session drummer and composer. He is a member of several notable bands (Purple is the Color, Nikol Bóková Quartet, e c h o Boomer, and others) and is actively performing on the Austrian and Czech music scene. Michał has garnered recognition at various international jazz competitions. In 2015, he won a prize for the Best Soloist at the European Jazz Competition in the Netherlands. He has also won an Individual Award in the international competition at the Krokus Jazz Festival as well as many other awards and prizes. Michał has been featured as the drummer of the month in the Austrian drum magazine Backbeat. After being accepted to Anton Brückner Private University in Linz, Michał mainly studied with the New Orleans drummer Jeffrey Boudreaux. During the second year of studying at ABPU, Michał was invited to work with the Austrian jazz saxophonist Harry Sokal, with whom he recorded the album I Remember Art, which was nominated for the prestigious German Record Critics Award. In 2018, Michał got accepted for the exchange program at the Le Pôle Supérieur d'enseignement artistique Paris Boulogne-Billancourt (PSPBB) in France and had a chance to study with the legendary drummer Daniel Humair. He also took part in masterclasses of musicians such as Brian Blade, Chris Dave, David Dorůžka, and others. With the band Purple is the Color, Michał recorded a well-received debut CD Unmasked, and has toured across Europe. The album also features his composition For Now. The band won the Central European Competition 2018 as an absolute winner. In 2020 band released its second album Epic, which also contains his compositions. Michał's open-minded approach to playing allows him to move freely across various musical genres. He also performed with Beránci a Vlci – ambitious audio-visual project from the Czech jazz bassist and multi-instrumentalist Marian Friedl, which uniquely blends traditional Wallach, world, and jazz music. The self-titled album was warmly accepted among the critics and won Anděl Award 2017 as the best album in its category. Michał continues to collaborate with Friedl on various musical projects (e. g. 11 Podob lásky). With Czech classical pianist and composer Nikol Bóková, he recorded a few highly acclaimed albums; Inner Place, Unravel, Prometheus, and Elements. Prometheus won Anděl Award 2021 as the best jazz album. Michał's latest solo video Bluehalo showcases his unique approach to liveelectronic music and acoustic drumming.
Tickets
MOMENTS FROM PREVIOUS EDITIONS OF THE FESTIVAL CAN BE FOUND HERE:
Gallery