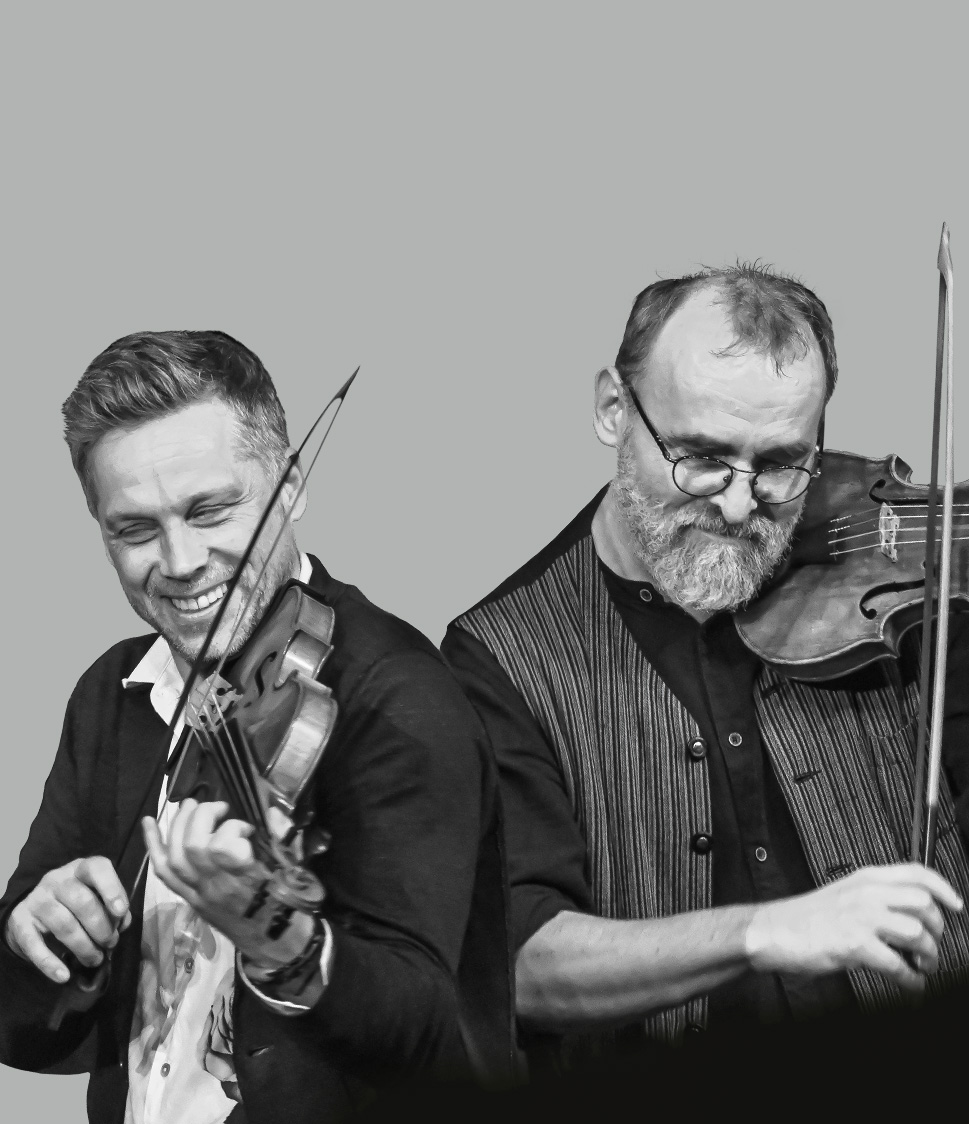 Solamente naturali
& Barokksolistene: One Music
6. 7., 20:00, Forecourt of the Old Town Hall
Solamente naturali
Miloš Valent / violin, viola, vocal, zlobcoky
Ján Kružliak Jr. / violin, electric violin, zlobcoky
Peter Vrbinčík / viola, zlobcoky
Kristína Chalmovská / cello
Jan Rokyta / dulcimer, recorders, duduk
Barokksolistene
Bjarte Eike / violin, hardanger fiddle
Hans Knut Sveen / harpsichord, keyboard
Johannes Lundberg / doublebass
Helge Norbakken / percussions
One Music is a project that is the fruit of cooperation between two renowned ensembles in the field of early music, Solamente naturali from Slovakia and Barokksolistene from Norway. Both ensembles are linked by more than 20 years' collaboration between their artistic directors, the violinists Miloš Valent and Bjarte Eike. In a joint programme they present compositions which, even despite the immense riches of expressiveness and rootedness that they set out from, are part of "a single music". During the concert, the rich dramaturgy thus creates several imaginary musical bridges: a bridge between past and present, and also between those in the music of both nations who might appear as dominant and those who might be regarded as marginal. In one evening we will hear compositions representing early musical expressions of Slavic and northern music, preserved in music archives (Annae Szirmay-Keczer, Eleonora Susanna Lanyi, AE, Uhrovec Collection I. and II., Mestmacher, Schodsberg, Sonderho, Avalsnes, Sorfold), and performed in the historical perspective that is basic to the repertoire of both ensembles. There will also be works by contemporary authors, the Norse composer Jon Balke and the Slovak composers Michal Paľko and Daniel Matej, which originated from the inspiration of early music. This colourful mosaic of an old and new world will be complemented by the music of nationalities that are part of Slovak and Norse culture: sounding from one stage will be Roma and Jewish music as well as music of the Sami and Vikings.
Premieres:

Jon Balke: Catapult
Daniel Matej: Cinque Ritornelli
Michal Paľko: Contexts (some of melodies of collective consciousness)
___
Miloš Valent is a laureate of the Tatra banka Foundation Award 2020.
We reserve the right to change the programme and performers.
Tickets
MOMENTS FROM PREVIOUS EDITIONS OF THE FESTIVAL CAN BE FOUND HERE:
Gallery