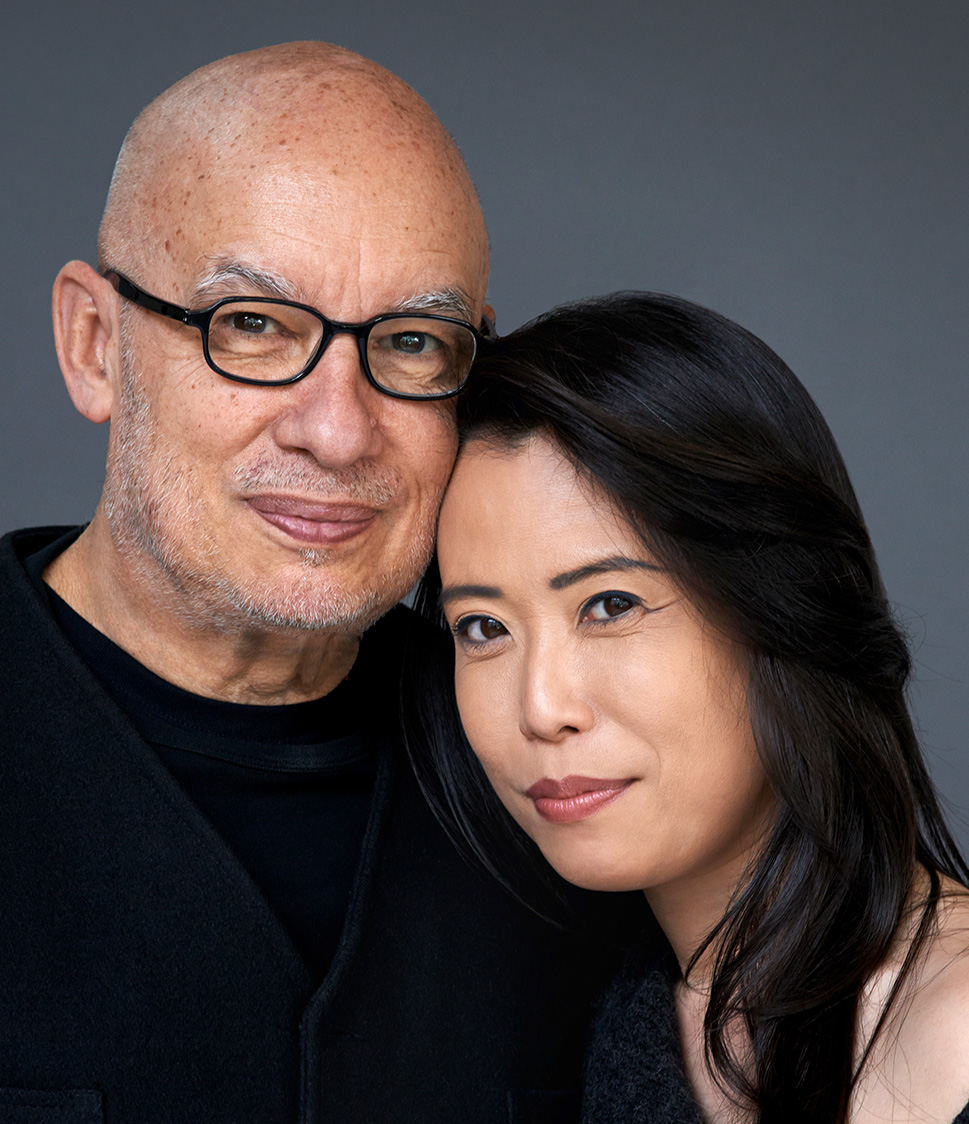 Pianographique

14.7., 20:00, Slovak Radio
Maki Namekawa, piano
Dennis Russell Davies, piano
Cori O'Lan, real-time visualisations
The Pianographique project grew from an initiative by Ars Electronica Festival in Linz in 2013. It comprises a series of concerts by the Japanese pianist Maki Namekawa (at Viva Musica! festival she performed alongside Philip Glass in 2015 with The Complete Piano Etudes), the American pianist and conductor Dennis Russell Davies, and the Austrian visual artist Cori O'Lan. Pianographique is about merging the art with new technologies, specifically about the visual fashioning of music which emerges in real-time, based on the interaction of music, performers and computer system. In this instance, the computer is an imaginary painter's brush that the pianists have mastered, and thus the performance of a given composition can differ and diverge from its actual visual production with every performance. Maki Namekawa and Dennis Russell Davies have formed a piano duo since 2003. They perform regularly at prestigious venues in Europe, Japan and North America. They are among the closest partners of the American composer Philip Glass, and they regularly perform his works. At Viva Musica! festival their concert will include Glass's Piano Sonata (Slovak premiere) and Four Movements for Two Pianos, complementing these with The Seasons by John Cage and Piano Phase by Steve Reich. The concert is held in cooperation with Ars Electronica Linz festival.

Program

John Cage (1912 – 1992)
The Seasons
Prelude – Winter – Prelude II – Spring – Prelude III – Summer – Prelude IV – Fall – Finale (Prelude I)

Philip Glass (*1937)
Piano Sonata
Movement I – Movement II – Movement III
___

Steve Reich (*1936)
Piano Phase

Philip Glass
Four Movements for Two Pianos
Movement I – Movement II – Movement III – Movement IV
We reserve the right to amend the programme.
Concert partner

Maki Namekawa is a leading figure among today's pianists, bringing to audiences' attention contemporary music by international composers. As a soloist and a chamber musician equally at home in classical and repertoire of our time, she performs regularly at international venues such as Carnegie Hall and Lincoln Centre New York, Musikverein Vienna, Barbican Centre and Cadogan Hall London, Citè de la musique Paris, Philharmonie de Paris, Concertgebouw Amsterdam, BOZAR Brussels, Suntory Hall and Sumida Toriphony Hall Tokyo, Salzburg Festival, Ars Electronica Festival, Musik-Biennale Berlin, Rheingau Musik Festival and Piano-Festival Ruhr. Maki Namekawa records and performs frequently for major radio networks in Austria, Germany, the Netherlands, Switzerland, France, and USA. Orchestra engagements include Royal Concertgebouw Orkest Amsterdam, Münchner Philharmoniker, Bamberger Symphoniker, Dresdner Philharmonie, Bruckner Orchester Linz, Sinfonieorchester Basel, Filharmonie Brno, American Composers Orchestra, and Seattle Symphony. In 2013, she performed the world premiere of the entire cycle of Philip Glass' 20 etudes for piano solo at Perth International Arts Festival under the participation of Glass himself, followed by concerts around the world in the US, Mexico, Brazil, Ireland, Scotland, Iceland, Sweden, Finland, Denmark, Slovakia, Poland, Germany, and Japan. A double-CD of the complete Glass etudes has been released in 2014 by Orange Mountain Music, reaching number 1 of the iTunes Classic charts and receiving high praise in the categories "Performance" and "Recording" by BBC Music Magazine. In September 2017 Maki Namekawa presented the whole cycle of Glass etudes for the first time in Austria at the Ars Electronica Festival as a project Pianographique with real-time visualizations by Cori O'Lan. In September 2018, Maki Namekawa released the piano version of Philip Glass' soundtrack Mishima: A Life in Four Chapters that depicts the life and death of the Japanese writer and political activist Yukio Mishima. The arrangement was especially crafted for her by Glass' long-term musical director Michael Riesman and features her crystal-clear technique. The recording was awarded the prestigious Pasticcio Prize by ORF – Austrian National Radio Broadcast. In June 2019, her another recording Isang Yun | Sunrise Falling was awarded Pasticcio Prize again. In 2019 Philip Glass composed his first Piano Sonata especially for Maki Namekawa. She premiered the Sonata on July 4th, 2019, at Piano-Festival Ruhr in Germany in the presence of the composer. This Piano Sonata was commissioned by the Piano-Festival Ruhr, the Philharmonie de Paris and the Ars Electronica Festival. Together with her husband, the conductor Dennis Russell Davies, Maki Namekawa formed a piano duo in 2003 which regularly performs in leading venues in Europe, Japan, and North America. Major works written for the Namekawa-Davies Duo include Philip Glass' Four Movements for Two Pianos, Chen Yi's China West Suite, and Glass' Two Movements for Four Pianos (with Katia and Marielle Labèque) all commissioned by the Piano Festival Ruhr. In July 2017, Maki Namekawa, Dennis Russell Davies, and Philip Glass received the Piano Festival Ruhr Award. In 2019 Japanese composer Joe Hisaishi composed for the Namekawa-Davies Duo a work for two pianos and chamber orchestra Variation 57, premiered in Tokyo under the baton of the composer. Maki Namekawa studied piano at Kunitachi Conservatory in Tokyo with Mikio Ikezawa and Henriette Puig-Roget. In 1994 she won the Leonid Kreutzer Prize. In 1995 she continued her studies with Werner Genuit and Kaya Han at Musikhochschule Karlsruhe, where she completed her diploma as a soloist with special distinction. She went on to perfect her artistry in Classical-Romantic repertoire with Edith Picht-Axenfeld, in contemporary music with Pierre-Laurent Aimard at Musikhochschule Köln, György Kurtág, Stefan Litwin and Florent Boffard.
Dennis Russell Davies' activities as opera and orchestral conductor, and as pianist and chamber musician, are characterized by an extensive repertory stretching from Baroque to the latest music of our time. Widely considered to be one of the most innovative and adventurous conductors/programmers in the classical music world, Davies has successfully challenged and inspired audiences on both sides of the Atlantic as well as in Japan. He is noted for exciting, well-structured concerts and for his close working relationships with such varied composers as Luciano Berio, William Bolcom, John Cage, Philip Glass, Heinz Winbeck, Aaron Copland, Lou Harrison, Laurie Anderson, Arvo Pärt, Hans Werner Henze, Kurt Schwertsik, Thomas Larcher, Balduin Sulzer, and Manfred Trojahn. After first appointments as Music Director of the Saint Paul Chamber Orchestra and Chief Conductor of the American Composers Orchestra, which he led for 25 years, Davies moved to Europe as General Music Director of the Staatsoper Stuttgart, then Opera Bonn and the Beethoven Orchestra Bonn. He subsequently led the Vienna Radio Symphony Orchestra, the Stuttgart Chamber Orchestra, and the Sinfonieorchester Basel. In 2013, during his long and successful tenure in Linz as Chief Conductor of the Landestheater Linz and Bruckner Orchester Linz, Davies inaugurated the new Linzer Musiktheater conducting the world premiere of Philip Glass'/Peter Handke's Spuren der Verirrten and Strauss' Rosenkavalier. As guest conductor in the USA, he has appeared with the orchestras of Chicago, Philadelphia, San Francisco, Boston, New York, and Cleveland. In Europe he has worked regularly with the Concertgebouworkest Amsterdam and the Gewandhausorchester Leipzig and has conducted the Berliner Philharmoniker, Filarmonica della Scala, the St. Petersburg Philharmonia, Orchestra of the Maggio Musicale Fiorentino, as well as the Hamburg and Munich Philharmonic Orchestras. Recent opera engagements include a new production of Peter Eötvös' Three Sisters in Frankfurt and multiple performances of Salome and Wozzeck at the Wiener Staatsoper. He has conducted new productions at the Bayreuth and Salzburg Festivals, the Metropolitan Opera New York, the Hamburgische and Bayerische Staatsoper, the Opéra National de Paris, the Lyric Opera of Chicago, and Teatro Real in Madrid – a total of more than 140 new productions by many of the theatre world's most important stage directors. Dennis Russell Davies' rich discography includes complete recordings of the symphonies of Anton Bruckner and Philip Glass (Bruckner Orchester Linz), Joseph Haydn (Stuttgarter Kammerorchester) and Arthur Honegger (Sinfonieorchester Basel). With his wife and duo partner Maki Namekawa he has recorded extensively, including works by Mozart, Beethoven, Shostakovich, Glass and Stravinsky's original four-hand versions of Le Sacre de Printemps, Firebird, and Petrouchka, which he also recorded with the Sinfonieorchester Basel. Born in Toledo, Ohio in 1944, Davies studied piano and conducting at the Juilliard School in New York. From 1997–2012 he was professor for orchestral conducting at the University Mozarteum Salzburg. Since September 2020, he is a guest professor at the Janáček Academy of Music and performing Arts in Brno. Since 2009, Dennis Russell Davies is a Fellow of the American Academy of Arts and Sciences, and has been awarded the German Bundesverdienstkreuz, the Austrian Ehrenkreuz für Wissenschaft und Kunst, as well as the title Commandeur des Arts et Lettres bestowed by the French Government. Currently, Dennis Russell Davies is an Artistic Director and Chief Conductor of the Brno Philharmonic, and a Chief Conductor of the MDR-Sinfonieorchester in Leipzig.
Cori O'Lan has worked at the crossroads of art and technology since the late 1980s. His most recent work is focusing on live, computer-generated visualizations of orchestral and piano music. Through a longstanding collaboration with the Ars Electronica Futurelab, pianist Maki Namekawa and conductor Dennis Russel Davies, he has developed a unique style of 'accompanying visualizations', working with and elaborating on the music as it is performed, in real time, to create unique, one-of-a-kind visual interpretations. In these accompanying and responsive real-time visualisations, each individual graphic element is derived directly from the acoustic material – that is, from the qualities of the music itself as it is performed by the pianists. To achieve this, the sounds produced by the pianos are picked up by microphones. These signals are then transformed by a computer into thousands of data points, drawing on musical elements including frequency, pitch, volume, and dynamics. This information, in turn, is used to control the graphics computer, which creates, modifies, and animates the different graphic elements that together make up the visualisation. The live nature of this process ensures there is a direct and deeply expressive connection between the musical and visual experiences. With these visual interpretations, O'Lan seeks to go beyond a direct mechanical translation of sound into image. Instead, he sets out to create a living, organic visual entity which has its own nature and behaviour, drawing on the characteristics of the music, while simultaneously 'listening' to and responding to the music as it is performed. These visual-concert projects have been performed in New York, Los Angeles, Tokyo, Osaka, Abu Dhabi, Brussels and of course at Ars Electronica Linz.
Tickets
MOMENTS FROM PREVIOUS EDITIONS OF THE FESTIVAL CAN BE FOUND HERE:
Gallery