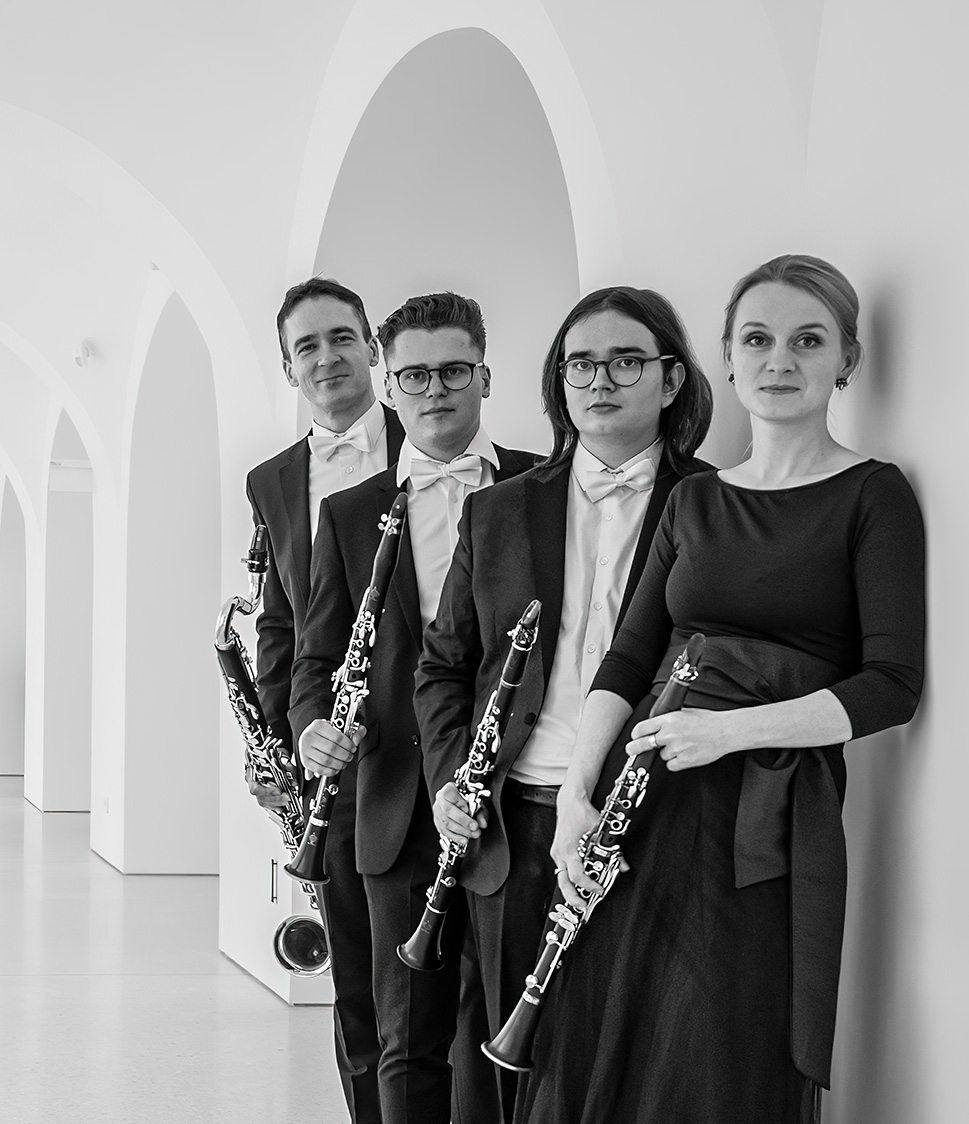 Aurum Quartet

5. 8., 17:00, Moyzes Hall (Comenius University, Vajanského nábrežie)
!!! CHANGE OF VENUE !!! 
Dear all, we're sorry to inform you, that due to the unfavorable weather forecast today's concert of Aurum Quartet takes place in the Moyzes Hall (Comenius University, Vajanského nábrežie).
Musical Gardens #6
Albín Blaho / clarinet
Šimon Štímel / clarinet
Martina Lišková / clarinet
Jozef Eliáš / bass clarinet
A concert by the clarinet quartet Aurum Quartet offers a special musical experience, together with an opportunity to make closer acquaintance with the clarinet, as an instrument with its own specific and richly sonorous world. This grouping came into being at the Conservatory in Bratislava, and its members are graduates and teachers at that institution. Making up the quartet are Albín Blaho (1st clarinet), Šimon Štímel (2nd clarinet), Martina Lišková (3rd clarinet) and Jozef Eliáš (bass clarinet). The quartet members are concurrently members of other musical bodies: Slovak Philharmonic, Slovak Radio Symphony Orchestra, and the Orchestra of the Slovak Ministry of the Interior. Since its formation in 2020, the ensemble has performed at many concerts at home and abroad. Among its most notable appearances abroad are the New Year concert of the Slovak Institute in Berlin, a concert at the international festival Terras Sem Sombra in Portugal, a concert at the Slovak Institute in Vienna, and an artistic tour in Kuwait. In 2021 Aurum Quartet released its debut CD entitled Ouverture, where it presented various classical compositions in an arrangement (untypical as regards sound, but all the more interesting) for clarinet quartet. Among other important activities of the quartet, there is also the performance of pieces by contemporary authors. Works by the composers Ľuboš Bernáth, Marián Zavarský and Aleksandra Gudková have been studied and performed in premiere by this ensemble.
Programme
Zeljenka: Kvartettino semplice (premiere)
Ilievsky: Summer Music (premiere)
Kovács: Shalem Aleichem Rov Feidman
János: Négy romantikus játék
Piazzolla: Histoire du Tango (arr. B. Edwards)
Gershwin: Rhapsody in Blue (arr. I. Dobrinescu)
___
The concert is held within the Musical Gardens series.
Admission to the concert is free (until the space has full capacity).
We reserve the right to change the programme and performers.
Free entry
MOMENTS FROM PREVIOUS EDITIONS OF THE FESTIVAL CAN BE FOUND HERE:
Gallery