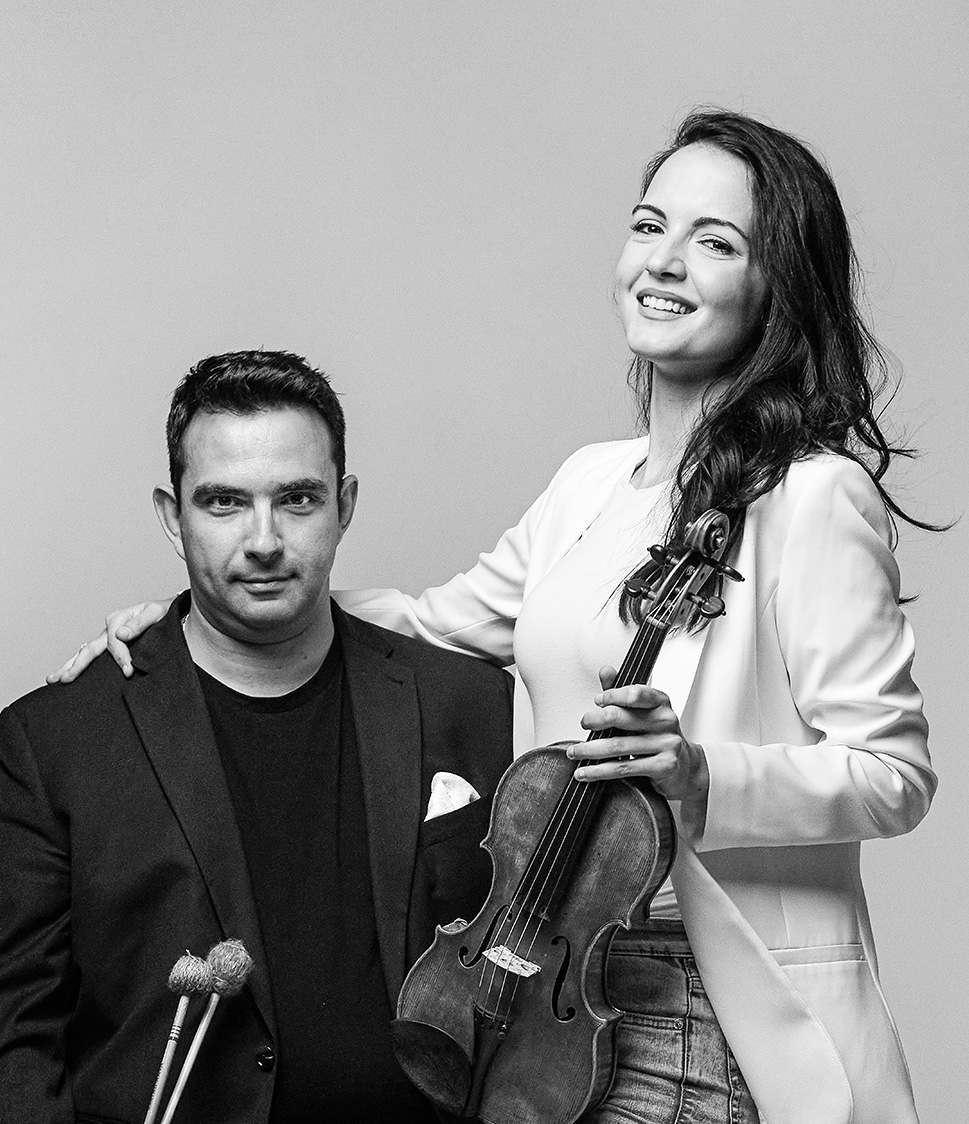 Harvanová & Stoyanov

12. 8., 17:00, Janko Kráľ Park
Musical Gardens #7
Lucia Harvanová / violin
Kiril Stoyanov / percussion
The Slovak violinist Lucia Harvanová studied violin playing at Musik und Kunst Privatuniversität in Vienna, in the class of the world-famed violinist Julian Rachlin; the Bulgarian musician Kiril Stoyanov studied percussion playing at Universität Mozarteum in Salzburg, with the prominent artist Peter Sadlo. Their artistic paths crossed at Bratislava, where they became acquainted as colleagues in Slovak Philharmonic, and their shared passion for chamber playing resulted in the formation of an untraditional duo for violin and percussion instruments. In this chamber grouping Kiril Stoyanov mainly plays melodic percussion instruments such as marimba, vibraphone, and xylophone. Combining with the violin as the solo melodic instrument, these instruments have surprisingly equal capacities as partners, and at the same time, in many of the compositions, they also prove themselves as virtuoso instruments with inimitable sound qualities. The union of violin and percussion instruments, despite the attractive sound combination, is an extreme rarity in the world, and original music for such groupings is practically non-existent. These two performers therefore seek opportunities principally in their own arrangements of already-existing works of classical music, while on occasion they draw upon the rare new works for such instrumental combinations. In concert at the Viva Musica! festival they will present works by Johann Sebastian Bach, Astor Piazzolla, Béla Bartók, and the less-known work of Peter Hristoskov and Richard Galliano.
Programme
Bach: Suite in D minor (Sarabande & Gigue)
Bach: Cello Suite No. 1 in G Major (arr. for marimba)
Händel / Halvorsen: Passacaglia
Piazzolla: Libertango
Piazzolla: Ave Maria (Tanti anni prima)
Piazzolla: Yo soy María (María de Buenos Aires)
Bartók: 44 duets for two Violins (selection of duets arranged for violin and marimba)
Rajter: Rondo romantico per violino e pianoforte (arranged for violin and marimba)
Galliano: Pour Claude
Reifeneder: Crossover
Hristoskov: Malka Toccata
___
The concert is held within the Musical Gardens series.
Admission to the concert is free.
We reserve the right to change the programme and performers.
Free entry
MOMENTS FROM PREVIOUS EDITIONS OF THE FESTIVAL CAN BE FOUND HERE:
Gallery